About breaking bones, sad Airports, Ted, and 'evil' feminism.
Monday, November 14, 2016
Caution: This is a short post.
(Or.. maybe not. And this is just a ploy to make you read it all)
Today, I say the inverse: which is that not every good thing is an entirely good thing. Or, rather, some things done or said wit good intentions, may not be an entirely "good" thing.
Like my sprained ankle. (Yes, that same one). It has taken longer than I wanted it to heal. Although, I should probably take a huge part of the blame. Cuban Salsa and I should share in the blame. We both resprained it.
I stopped all strenuous activity. I was faithful in taking my medications and dressing the ankle. And I resolved to apply positive thinking (i.e. faith) to the healing of the ankle.
Which was why as the day for my Ted talk approached, and I got kind wishes to "break a leg", I smiled at each wish, sent back a polite thank you, and quickly did the Igbo "tufiakwa!" sign over my head, while denouncing it.
The last thing I needed was any 'angel' of the devil running with the wishes (superstitious eh?), and ensuring I actually broke the whole leg. The 'good' wishes at the time were not good for me.
As my soul sister noted, I already had breaking limbs covered enough.
Have you ever visited the Port-Harcourt 'International' Airport?
If you feel in an extremely happy place, and require a bit of a downer to 'normalise' your emotions, you should visit that Airport.
Three years ago, when I passed through the Airport, its "Arrival Hall" looked like this:
Photo Credits: www.venturesafrica.com
Last weekend, when I was at the Airport, its "Arrival Hall" looked like this:
(I know… big improvement, right??)
Just like the proverbial cat blamed for everything from spilling the milk to over-feeding the dog, the 'recession' would be blamed as responsible for the government's despondence in fixing this Airport. Even though three years ago, there was no recession.
I was not in need of the downer to 'normalise' my emotions. I was normal. So the Airport sent my 'normal' downhill, and saddened me. My sorrow was compounded by the knowledge that irrespective of how passionate we as citizens get, Section 2 of the Constitution sits strong like a steel graven image; a reminder of our inability to hold our Government to their expected responsibilities.
Photo Credits: www.tedxinnovations.ted.com
I had enjoyed watching a variety of Ted talks, and locally organized Ted 'X' talks. My best however remains Will Stephen's talk; I never believed talking about 'nothing' could be so… something.
So I was delighted to attend this TedX Port-Harcourt - my first ever Ted event. And my expectation was not cut short. The organisers did a marvelous job of assembling a diverse, yet, totally amazing set of speakers.
For example, Dr. Joshua Adeoye made the discourse on enzymes so engaging that I, who could never successfully sit through biology class without dozing off, was left longing for more. I got to enjoy the performance of a Nigerian artiste whom (other than Asa) I'd actually pay to download their songs, in the person of Lindsey Abudei. (She sings my kind of 'weird' music). There was this amazing human, who for the whole six hours or so of the event, interpreted everything being said into sign-language, for the And Eugene Abels! My lord… he got everyone rolling with his anecdotes of student 'Aluta-ism' over fried plantain, while challenging everyone to hold our leaders accountable.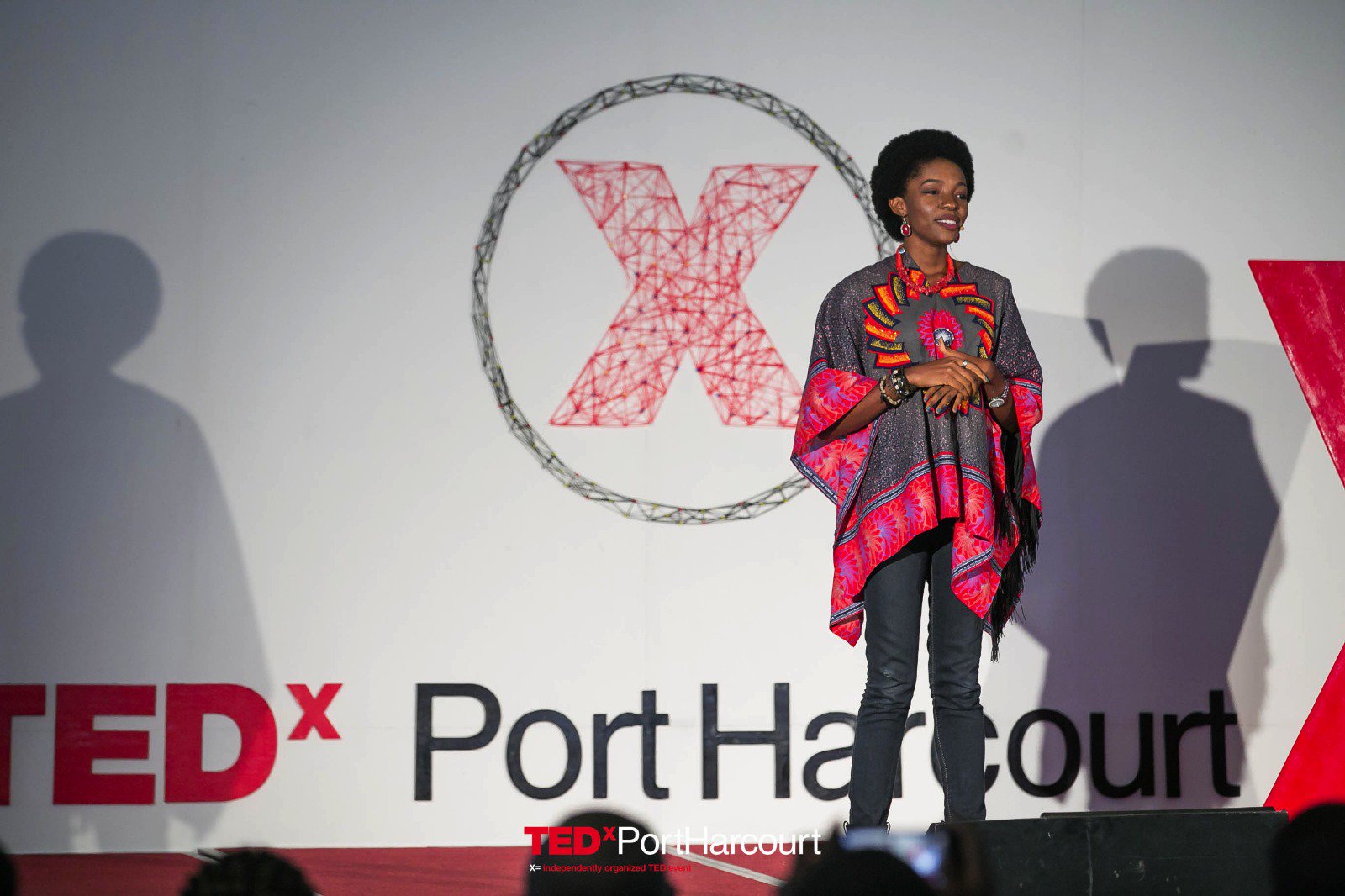 Okwukwe Ifediora (a.k.a 'Kwiksie') giving beautiful Spoken Word
Photo Credits: Touchh.com on twitter
Above all, I learnt that anxiety could make you a nut-case, if you let it. In the hours leading to my talk, I experienced almost all kinds of symptoms, from a 'lost-voice', to feeling my injured foot was actually unhinging from my leg. It was not until hours after the talk, and rehashing the 'symptoms' that I realised it had all been in my head.
I spoke on boxes i.e. labels, definitions and stereotypes that stifle creativity, perpetuate societal ills of corruption and Child Sexual Abuse, and hamper Gender Equality.
But… I was in amused shock when the compere (who clearly announced immediately after my talk: "I am not a feminist!") reduced my near 30-minute preaching to more or less "feminism is evil for asking women not to cook for their husbands".
(Insert Facebook's mouth-open/shocked smiley)
Dear anti-feminists/non-feminists/dis-feminists, I do not agree that this defines the sum of all feminism stands for. But if equal opportunities for both genders means that neither gender should be banished to the kitchen, against each human's perception of their individual right to liberty, maybe truly, that is what feminism is about.
Other than this, I doubt that feminists care for internal domestic culinary arrangements between couples. By all means, sell firewood, in addition to living in a kitchen. But it is indeed bad behavior, to misinterpret a person's words, and wrongly restate in a fleeting sentence, well-researched, time-dedicated discourse on the need for women to be given equal opportunities to succeed as their male counterparts. Without the barrier of the glass ceiling.
I am now curious about this apathy with which the words 'feminism' or 'feminist' are met in Africa.
There has to be more to this than meets the eye… and I will find it.
P.s.: I promised you this post would be short… didn't I??